The Green Light on the Blue Light Card
We are excited to announce that we are now part of the Blue Light Card Scheme. We have recently changed from our previous workplace rewards scheme and have decided to join the Blue Light Card.
'Why?' – Because at Notaro Homes, our staff and their wellbeing is our priority (as without them, we wouldn't be able to do what we do!) and when they ask us to change something, we will always try our best to do so.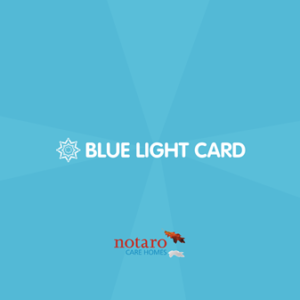 What is the Blue Light Card?
In case you haven't heard about the Blue light card before, let us explain. Put simply, Blue light is the service that offers discounts online for the emergency services, NHS, social care sector, and armed forces.
Blue Light Benefits
The blue light card is partnered with a whole variety of brands to provide a diverse range of discounts across an array of sectors, shops, and businesses. These apply online and on the high street. To use online, staff simply have to log into their account and generate an individual code which they can then enter at checkout. To use on the high street, employees will need a physical card. this costs £4.99 but is something we will be reimbursing for our wonderful employees.
You can find out more information about the Blue Light Card here.